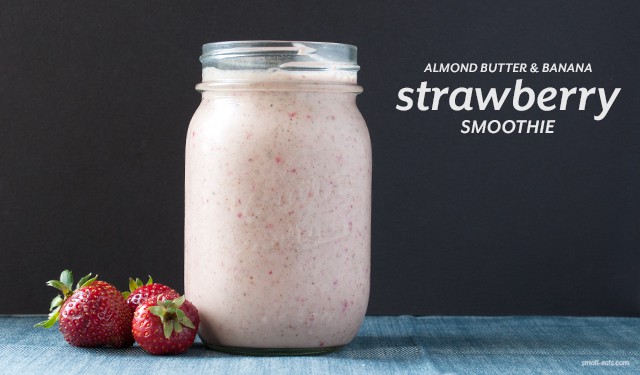 For the past few months, I've been in love with smoothies. They're quick, pretty simple to make and very easy to pack with fruits, vegetables, or protein. They're also great to grab and drink during a busy morning.
I usually go with a green smoothie with some protein powder thrown in, but every once in a while, I go for a sweeter smoothie. To make sure this smoothie wouldn't leave my stomach growling in a hour or two, I added some almond butter for added protein. I always throw a banana in my smoothies, so the banana stayed in this one as well.
The great thing about smoothie recipes is that they're open to adapting. You can also add some yogurt to your smoothie, or swap out nut butters or milks. This recipe could also easily be sized up and turned into popsicles as summer approaches. Have fun with your smoothie and make it your own!
Want more strawberry dishes from this series? You can find them here:
Nutrition DL: Strawberries
Tarragon and Strawberry Chia Jam
Individual Strawberry and Mint Cobblers
Strawberry Arugula Salad
This recipe is part of a series called Nutrition DL. Nutrition DL gives you the download on seasonal fruits, vegetables, or pantry staples. Once you learn about the basics of the featured ingredient, I share a four recipes over four weeks to inspire and feed you with this great seasonal food. Check out other foods I've covered here.
Almond Butter and Banana Strawberry Smoothie
Ingredients
1 cup strawberries, hulled
1 banana
2 tbsp almond (or other nut) butter
1 cup ice
1 cup nondairy milk
Instructions
Combine all ingredients in a blender and blend until smooth.
(c) 2013-2014 Small Eats