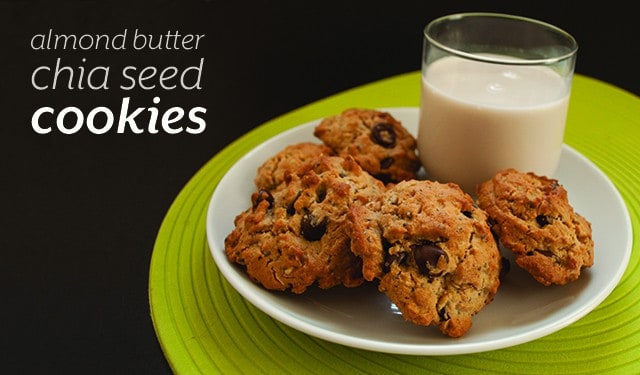 Hello! I'm so excited to share the FIRST! recipe on small eats. I have been dreaming of, planning and working on this blog for a while. It's so amazing to finally post a great recipe. They way I say hello is with something sweet.
I like making desserts indulgent, but also good for you (makes people feel a little less guilty to eat it). Chia seeds are powerful little seeds that loaded with omega-3s and fiber. Almond butter is also a great and healthier alternative to peanut butter, and you can easily make it yourself. You can find my recipe here.
Enjoy this welcome snack and look forward to more healthy and wholesome eats 🙂
A fun tip for you: use an ice cream scoop for evenly sized cookies. And there's less mess! I use a 3/4 oz scoop. You can get them at restaurant supply stores or online.
Almond Butter Chia Seed Cookies
Ingredients
1 1/2 cups rolled oats
1 teaspoon baking soda
1 1/2 cup all purpose flour
1 tsbp chia seeds
2/3 cup butter, softened
2/3 cup brown sugar
3/4 cup almond butter
2 eggs
1 teaspoon vanilla
1/2 cup dark or semisweet chocolate chips
Instructions
Preheat oven to 375 degrees F.
In a medium bowl, whisk together oats, baking soda, flour, and chia seeds.
In another bowl, combine butter and brown sugar. Beat until creamy. Add almond butter, eggs, and vanilla.
Slowly beat in oat mixture. Stir in chocolate chips.
Place tablespoons of dough onto cookie sheet. Bake 13 minutes. Cool.
Notes
(c) 2013-2014 Small Eats