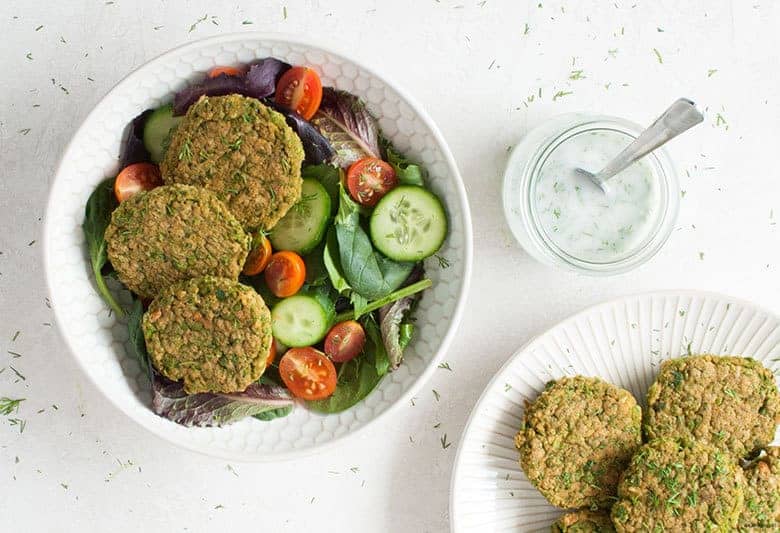 There are a lot of ways to start being healthier. You can drink more water, you can move more, get to sleep earlier, cut down on sugar, cut down on refined foods, reduce the amount of soda you're drinking… The places you can start are endless, and potentially overwhelming. It's easy to see why some people just don't start, or drop the idea pretty quickly.
I recommend you keep it simple, small, and fun. The way I started eating healthier years ago was by adding more vegetables to my meals. I focused my efforts on how I could add more veggies to what I was eating, and I loved it. I saw it as a fun challenge, and after a while, adding lots of vegetables to any meal became second nature.
There are a lot of ways you can add more vegetables to your meals. You could:
– make two side dishes of different vegetables
– add a side salad to your meal
– put your meal over a bed of greens
– add a handful of raw vegetables, like carrots or tomatoes to your meal
– get fancy and garnish your meal with broccoli sprouts, pea shoots, or micro greens
– add vegetables into food you're already making
The last one is one of my favorites. I love to boost my food with vegetables, like this Baked Green Pea Falafel. Falafel usually just has garbanzo beans, but I wanted to add a touch of spring with some fresh English peas. The peas give it a beautiful color and some veggies!
This falafel is also baked rather than fried, leaving your kitchen less messy, and putting more work on your oven and not on you. I've also got a yogurt dill dressing that will make the Baked Green Pea Falafel sing, and can easily be made dairy free with any non dairy yogurt.
If you're not working with fresh peas, that is a-okay. Frozen peas will also work wonders and they'll still have a similar nutritional value. Most frozen veggies are picked in peak season and frozen immediately.
You can serve this falafel any way you'd like- I prefer to enjoy it in a salad to get even MORE vegetables! You can also put it in a wrap, tortilla, or pair it with a few side dishes.
It's okay to start small and easy with being healthier. Adding a handful of salad greens to each meal over time can lead to bigger steps, and ultimately, a healthier life.
This recipe is part of a series called Nutrition DL. Nutrition DL gives you the download on seasonal fruits, vegetables, or pantry staples. Once you learn about the basics of the featured ingredient, I share four recipes over four weeks to inspire and feed you with this great seasonal food. Check out other foods I've covered here.
Want more green pea dishes from this series? You can find them here:
Nutrition DL: Green Peas
Coconut Pea Soup
Baked Green Pea Falafel
Green Pea Hummus
Ingredients
Falafel

16 oz cooked garbanzo beans, rinsed and drained
2 cups cooked green peas
2-3 garlic cloves
1 small onion, quartered
1 tablespoon cumin
1/2 tsp cayenne
1 cup chopped fresh parsley
1 1/2 teaspoons salt, plus more to taste
1/2 teaspoon baking soda
1 tablespoon fresh lemon juice
1 pasture raised egg or flax egg (1 tbsp ground flax to 3 tbsp warm water)

Yogurt Dill Sauce (optional)

1/4 cup Greek yogurt or non dairy yogurt (I used coconut yogurt)
1-2 tbsp fresh dill, chopped
1 tsp extra virgin olive oil
salt, to taste
Instructions
Preheat the oven to 375°F. Combine chickpeas, green peas, garlic, onion, cumin, cayenne, herb, 1 teaspoon of salt, pepper, baking soda, and lemon juice in a food processor. Pulse until everything is mixed but not mush.
Add egg to mixture. Roll the falafel mixture into balls slightly larger than ping pong balls, then flatten them into patties. Chill in the refrigerator for 5-10 minutes.
Place chilled patties onto parchment-lined baking sheets and bake 10-15 minutes on each side.
While baking, combine all ingredients for yogurt dill sauce together.
Notes
(c) 2013-2014 Small Eats