In the busyness of this season, I've been turning to my trusty baking dishes to keep things going. In making one meal with an 8×8″ or 13×9″ pan, I've just made a handful of lunch and dinners for N and myself. For most of the lunches and dinners after that, the hemming and hawing of what to eat while poking around the fridge is gone.

To keep it interesting, I like to make our favorite kinds of foods in these baking dishes so it doesn't just sit in the fridge untouched or avoided until other meals are gone. For us, that's comfort food like lasagna and Mexican food, with my veggie twist.
In searching for easy casserole takes on Mexican food, I came across this recipe from trusty Martha and started playing it. First order of business, as always, to add greens! I added kale, and with the cooler months ahead, you can add collard greens, Swiss chard, or trusty spinach.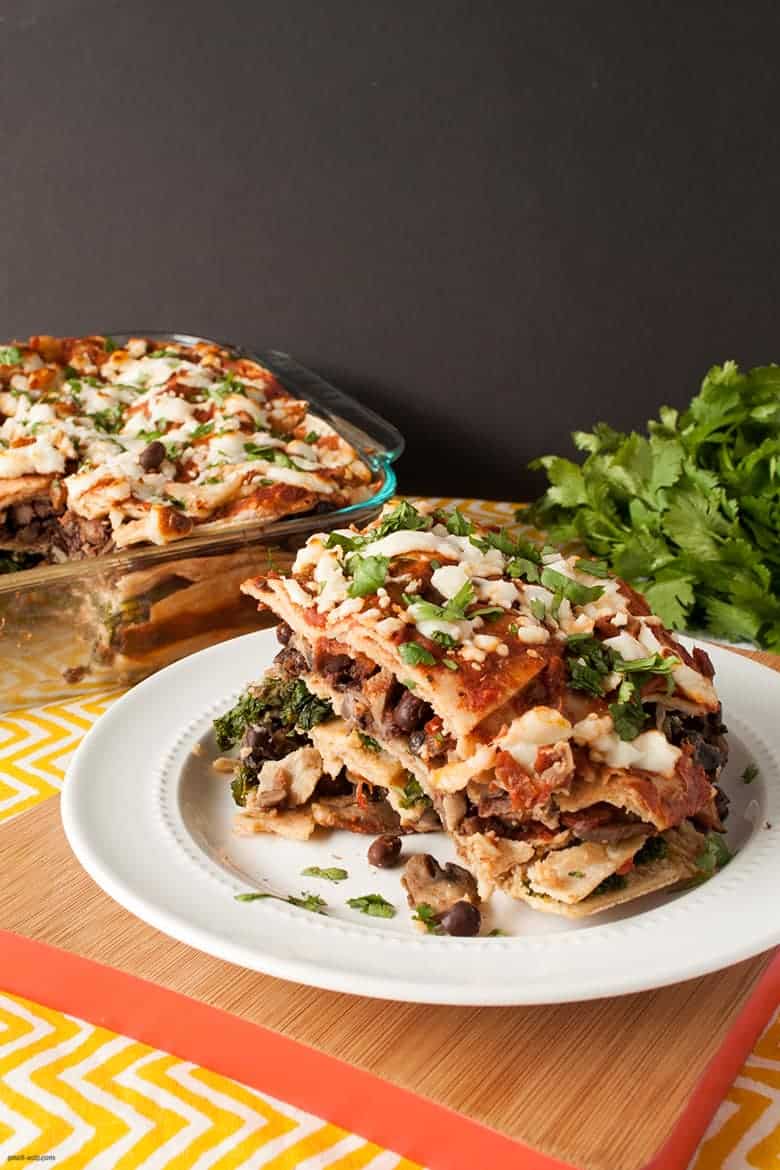 After adding more greens, I beefed up the amount of beans and mushrooms in this dish to make this a taller stack of Mexican veggie goodness. Last change was a favorite for N, topping this casserole with queso fresco, one of his favorite cheeses. With organic chipotle salsa layered in with the beans, veggies and cheese, it makes a combination so worth grabbing for a few meals.
You can make this more you by changing out the greens, using your favorite salsa (could be spicier, sweeter, greener), or even adding more vegetables! Depending on what time of year you make this, you could add bell peppers, zucchini, different seasonal greens, some leeks… the possibilities are endless.
What's your go-to casserole/one dish meal to make when things get busy?
Greens and Beans Tortilla Casserole
Ingredients
Mushroom and Bean Layer

4 tbsp grass fed butter
12 oz mushrooms, sliced and halved
2-3 garlic cloves, minced
1-2 teaspoon cayenne pepper or chipotle
1 tsp cumin
1 tsp paprika
2 cans (30 oz) black beans, rinsed and drained
salt and pepper to taste

Kale Layer

1-2 tsp olive oil
1 bunch of kale, ribbed and chopped into bite-sized pieces
salt to taste

Rest of Casserole

3 cups salsa (I used Chipotle Salsa)
11 corn or Siete grain free tortillas, warmed and halved
queso fresco (optional if you're dairy-free)
salt and pepper to taste
freshly chopped cilantro, for garnish
Instructions
Preheat oven to 400.
In a sauté pan, bring butter to medium heat and allow to melt. Add in garlic and mushrooms and cook until softened and browned, 5-10 minutes. Pour in beans and add seasonings. Cook until beans warmed, 2-3 minutes. Adjust seasonings as needed and transfer to a mixing bowl.
Wipe the pan down and bring back to a medium heat with olive oil. Once hot, add kale and cook until wilted, 5-10 minutes. Add salt to taste.
In an 8x8" glass baking dish, line the bottom layer with five tortilla halves. Pour half of your bean and mushroom mixture and flatten with a spoon. Add a cup of salsa on top, flattening again, then top with another layer of tortillas.
Add the kale mixture, top with tortillas, then add the rest of the bean and mushroom mixture, one cup of salsa, and top with the final layer of tortillas.
Spread the last cup of salsa over the tortillas and crumble the queso fresco (optional if dairy-free) over the top to your preferred level of cheesiness. Loosely cover with foil and bake for 15 minutes. Uncover and bake for 5 additional minutes.
Top with cilantro and serve.
Notes
(c) 2013-2014 Small Eats