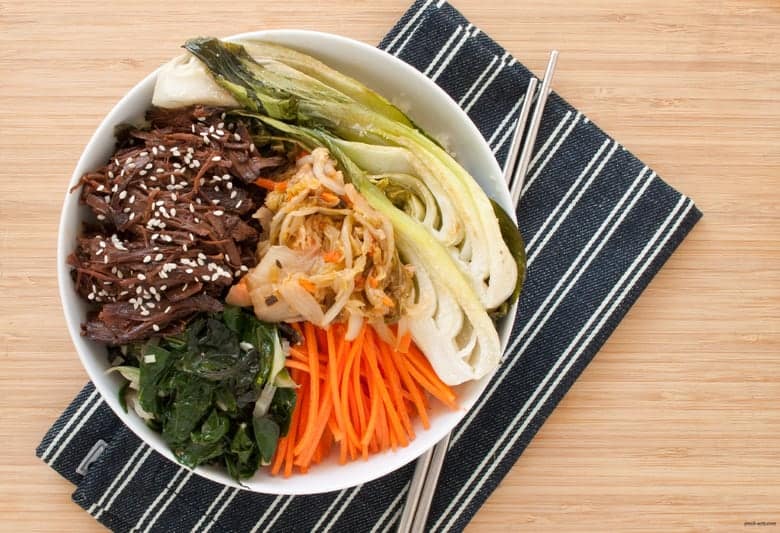 I'm running a small experiment right now. It's pretty casual, and I'm just sitting back and seeing how things play out, or don't play out.
For a long time I've eaten a lot of grains. I was raised to always eat grains with a meal and later as I moved away from meat I leaned on grains to add more bulk and weight to my meals.
And in the past few years I've met more people that can't handle gluten or a lot of grains, who live their life better without them. And I've been learning in school that grains can be sensitive for people, because their bodies can't handle it or they're not prepared in the most optimal way for our bodies to handle them.
So I'm curious. What would it feel like if I ate less grains? Would I notice it? Would it feel good? Bad? When I'm meal planning now, I'm starting to see where I can swap out grains with something else. This Korean Beef Bowl was a fun experiment in grain-free cooking, adapting Korean flavors, and seasonal vegetables all in one.
Instead of rice, I've got cauliflower rice instead, and (very proud of myself) I've made it as close to a Asian rice flavor with help from rice wine vinegar. It's pretty delicious with the rice wine vinegar, so much that I couldn't stop "taste testing" it as I was cooking.
This bowl is a definite weekend prep meal. I slow cooked the beef so it was tender, and also because I'm not a meat whisperer like N is. This looks like a lot of prep, but if you fold this into a usual meal prep day or take your time on a weekend afternoon, it's no stress at all.
Korean cuisine is so fun to be because all of the pieces you can add and combine to make a delicious mixture of flavors. And, Koreans are awesome with pickled and fermented foods, something I'm trying to add more of in my diet as well.
I didn't make kimchi this time (I've only made kimchi), I went with Farmhouse Culture's kimchi, and added in other raw and sautéed vegetables to give a great mix of tastes and textures. If there are other vegetables you prefer, swap them out. Want to add more pickled vegetables? Go for it and make it your own.
I'll keep you updated as I experiment with and without grains. Is there a food you're seeing how you react to if you do or don't eat it?
Ingredients
Korean Beef

1.5 lb organic chuck beef roast, cut lengthwise
1/4 c tamari
1/4 c honey
2 tbsp rice wine vinegar
2 tbsp sesame oil
2 tbsp garlic chili paste
2 tbsp coconut aminos

Cauliflower Rice

1 large head of cauliflower, cut in florets with stalks
1 tsp extra virgin olive oil
1/4 c water
2-3 tsp ground ginger
2-3 tsp ground garlic
salt, to taste
2-3 tsp rice wine vinegar

Sauteed Swiss Chard

1 bunch of Swiss chard, stems separated and cut into 1/4" pieces, greens cut into bite-size pieces
2 tsp pork lard (I used Epic Berkshire Pork Lard)
salt, to taste
2-3 tsp ground ginger
2-3 tsp shichimi togarashi

Roasted Baby Bok Choy

4-5 baby bok choy, quartered
2-3 tsp ground ginger
2-3 tsp powdered garlic
2-3 tsp paprika
salt, to taste
olive oil, to drizzle

Other Sides

1 medium carrot, julienned
Kimchi (I used Farmhouse Culture Spicy Wakame Ginger Kimchi)
sesame seeds for garnish
Instructions
In a crockpot, combine tamari, honey, rice wine vinegar, sesame oil, garlic chili paste, coconut aminos and stir to combine. Place two halves of beef roast into the crockpot and cook on high for 5-6 hours.
Preheat oven to 375. Arrange bok choy quarters on a foil-lined baking sheet. Lightly drizzle with olive oil and spices. Roast for 12-15 minutes.
Put cauliflower florets and other stalks into the food processor. This may take two batches. Pulse until cauliflower looks like rice. Bring olive oil to medium heat in a sauté pan. Add water and cover for 5-10 minutes, until not crunchy. Add seasonings and cook further if needed. Transfer to mixing bowl and add rice wine vinegar.
Wipe down sauté pan, reheat pan with pork lard. Add in chard stems and sauté until translucent, 3-7 minutes. Add in leaves and cook leaves until wilted. Add seasonings and adjust as needed.
When beef is done, shred the it with two forks, then assemble your bowl. Start with a layer of cauliflower rice, then add swiss chard, bok choy, julienned carrot, kimchi and garnish beef with sesame seeds.
Notes
(c) 2013-2014 Small Eats