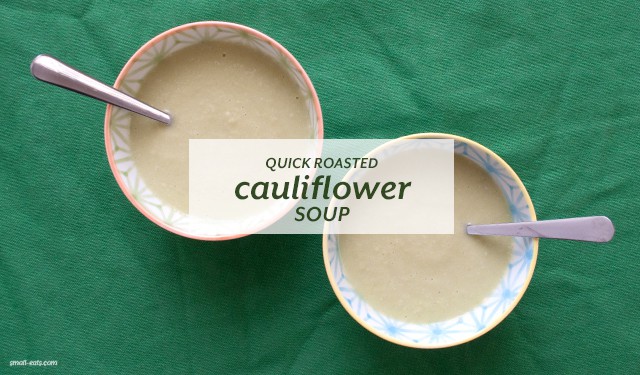 With most things, there is no one "right" way. You can approach a project or meal in a few different ways and end up with a great-looking project or a flavorful, satisfying meal. Soup, especially pureed soups, fall into this category.
Pureed soups, like the one above, can be approached a few different ways. You can, like most of my pureed soup recipes, cook everything in the stock pot, then transfer it to a blender and blend smooth. Or you could stick an immersion or stick blender (same thing, a few different names) into your pot and blend it up there, no transferring required. Or, you could roast your ingredients in the oven and blend them with stock in the oven, heating over the stove if the soup got cold or isn't as hot as you'd like it.
All methods produce soup, it just depends on which one you want to try, and in my case, which one produces the fewest or easiest to wash dishes. Roasting your vegetables can also bring out more flavor in your vegetables than just cooking on the stove.
Next time when you're making soup, try a different method, see if you like it. See what possibilities you can bring into your kitchen, trying something slightly different than before.
Want more cauliflower dishes from this series? You can find them here:
Nutrition DL: Cauliflower
Curried Roasted Cauliflower
Swiss Chard and Tomato Cauliflower Rice
Roasted Cauliflower Greek Yogurt Dip
This recipe is part of a series called Nutrition DL. Nutrition DL gives you the download on seasonal fruits, vegetables, or pantry staples. Once you learn about the basics of the featured ingredient, I share a four recipes over four weeks to inspire and feed you with this great seasonal food. Check out other foods I've covered here.
Quick Roasted Cauliflower Soup
Ingredients
1 head of cauliflower, florets separated from stalk
2-3 garlic cloves
olive oil, for roasting
salt, to taste
low-sodium vegetable stock
Instructions
Preheat oven to 475.
On a foil-lined baking sheet, arrange the cauliflower and garlic in a single layer. Lightly drizzle with olive oil and salt. Roast for 20-25 minutes, until fork tender.
Transfer the roasted vegetables to a blender and add one cup of vegetable of stock. Blend. Alternate between adding a cup of stock and blending until the soup has a smooth consistency. The number of cups depends on the size of your cauliflower and your soup consistency preferences. If you prefer a thicker soup, add less. Add more if you prefer a thinner soup.
Add any additional salt for taste. If the soup isn't hot enough anymore, put in a pot and bring to a boil, then serve.
(c) 2013-2014 Small Eats