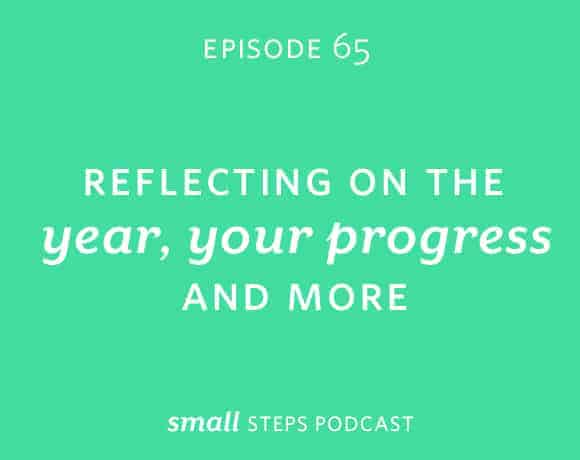 So often in today's world, we're so fixated on what's next, that we forget to take a moment to reflect on what we've done, learned or realized in the last year or through any times. This week's episode invites you to create that space to look back on whatever amount of time or theme resonates with you and see what happened. I also share some of what I've been reflecting on in the past year.
You can also listen in your favorite app: iTunes | Google Play | Spotify | Stitcher
Small Steps in the Show:
If you're interested, choose a method that resonates with you, if that was listed here or another way
Set aside some time to do this
Know that it could take some time/multiple times and it could feel strange/weird/hard
Allow yourself to feel the feelings that come up
If you need to, process the things that came up with someone you trust/your journal
Give yourself kindness, compassion and props for what you've done in the time you're reflecting on
Mentioned in the Show:
Buy my Enamel Pin
Dr. Tee Williams
Small Steps Podcast #32 with Dr. Tee Williams
Small Steps Podcast #55 What I've Learned after a Year of Podcasting
Big Magic by Elizabeth Gilbert
Small Steps Podcast #7 Boundaries and Asking for What You Need
Small Steps Podcast #1 My Healing Journey
Neghar Fonooni
Small Steps Podcast #26 with Neghar Fonooni
Small Steps Podcast #58 with Kayla Nedza
Aimée's episode of the To Birth and Beyond Podcast
Small Steps Podcast #62 with Jessie Mundell
Small Steps Podcast #18 with Chrissy King
Follow Aimee on Instagram | Facebook | Pinterest
Sign up for the Wellness Wednesdays Newsletter
Interested in working with Aimee? Find out information here.