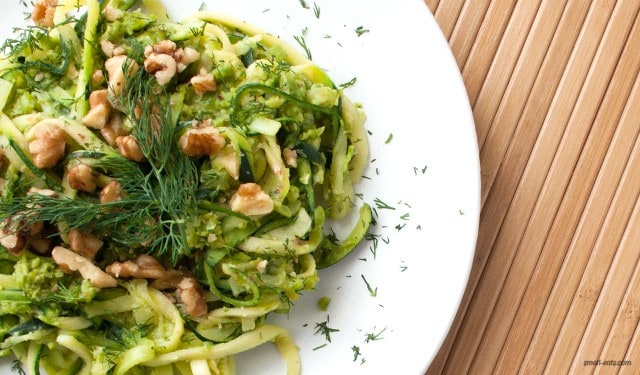 I was never a big pasta person. When I do eat pasta or noodles, it's usually in ramen or another Asian dish. I don't mind it, but it's never really lit my fire. Noodles made from veggies, on the other hand, is a whole other story.
If you're crazy about food like me, you've seen the veggie noodle (famously, the zucchini noodles or "zoodle") blow up all over Pinterest and the internet. And it's awesome!! Though I jumped on the train a little late, I LOVE the veggie noodle. They are a win/win situation. You break it up from your usual grain situation, they're great raw or cooked, and you're getting even more vegetables in your meal! How could you not love that?
This zucchini noodle dish has our Nutrition DL ingredient, peas, quickly pulsed in the food processor, to give it a pesto pasta feeling. I added walnuts for some crunch, and feel free to swap them out with whatever nut you have on hand. If you want to go the extra mile, toast the nuts to unlock some extra flavor.
I lightly sautéed these noodles with some olive oil to soften them a little bit, but if you want to enjoy the zucchinis raw as well, feel free. Either way it's a great dish for a hot summer night.
This Nutrition DL has taken longer than usual because things got a little crazy around here. Nutrition DL may take a pause for the next few weeks while other things are brewing. Don't worry, it will be back 🙂
Want more green pea dishes from this series? You can find them here:
Nutrition DL: Green Peas
Coconut Pea Soup
Baked Green Pea Falafel
Green Pea Hummus
This recipe is part of a series called Nutrition DL. Nutrition DL gives you the download on seasonal fruits, vegetables, or pantry staples. Once you learn about the basics of the featured ingredient, I share four recipes over four weeks to inspire and feed you with this great seasonal food. Check out other foods I've covered here.
Smashed Pea Zucchini Pasta
Ingredients
Smashed Peas

1 1/2 c peas, fresh or frozen
small spoon of coconut oil
2-3 cloves of garlic
1 tbsp dill
salt, to taste

Zucchini Pasta

juice from 1/2 a lemon
2-3 medium sized zucchinis
1-2 tsp olive oil
walnut pieces, for garnish
springs of dill, for garnish
Instructions
Heat a sauté pan to medium heat with the coconut oil inside. Once hot, add peas and a splash or water and cook peas for 5-10 minutes covered. Once cooked, remove from heat.
In a food processor, combine peas, garlic, lemon juice, dill and salt in bowl and pulse until chunky and well incorporated. Add more lemon juice, dill or salt to your taste.
With a mandoline, julienne peeler, or spiralizer, slice/peel/turn the zucchini into pasta-like strips. Lightly cook zucchini in a sauté pan with 1-2 tsp of oil for 5-7 minutes, until warm and slightly soft. Transfer to mixing bowl.
Add smashed peas into the mixing bowl and lightly toss until peas are well incorporated with pasta. Add walnuts and dill sprigs, lightly toss again, then serve.
(c) 2013-2014 Small Eats