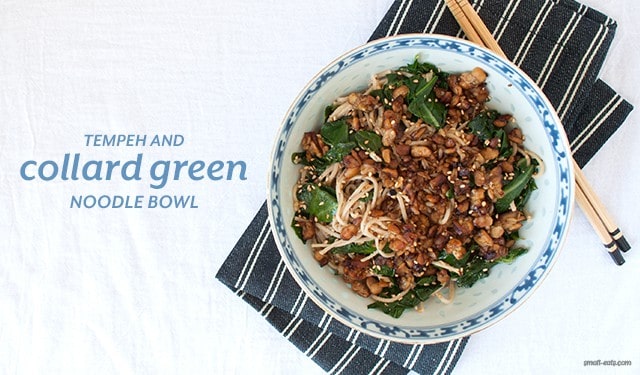 A noodle bowl with greens and protein is my constant back pocket meal. I've always got these three things in some form in my house at all times. Lately, the protein mixed into the bowl has been tempeh.
Tempeh is an Indonesian soy food that is made from fermenting cooked soybeans with a mold. You can also find varieties with barley, oats, and other grains included. It comes in a block-like shape like tofu and is sold in the refrigerated section near tofu. Tempeh has more protein than tofu, as well as more fiber.
Tempeh has also been around since at least the 1800s, which I like because this isn't just another soy product that you can find on the shelves that some big food company came up with. Lots of people (including myself) are starting to be more aware of their soy consumption. Soy is starting to pop up in a lot of different foods where they may or may not need to be in, and we all know eating too much of one thing isn't the best. I feel much more comfortable consuming a soy food that's been in a culture for a long time, like tofu and tempeh. I also keep my tempeh/tofu consumption to about 1-2 times a week.
Unlike tofu, tempeh has a nutty umami flavor, which can be magnified by drizzling some soy sauce on it while pan frying. because the beans and grains are mostly whole in the block of tempeh, you have more to chew, and the that texture makes it feel so much more satisfying.
Cooking tempeh is pretty straightforward for me. I cut them into 1/2″ slices and pan fry them in a sauté pan with some olive oil on medium high heat for about 3-4 minutes on each side. I drizzle a little bit of soy sauce on each side to give it a bit more flavor. And that's it. I'll either serve them as little logs, or I'll crumble them up with my wooden spoon after cooking and sprinkle them, like I did with this noodle bowl.
Try mixing up your favorite go-to dish with a new vegetable or protein. What happens may surprise you and become a new favorite.
Want more collard green dishes from this series? You can find them here:
Nutrition DL: Collard Greens
Spicy Sauteed Collard Greens
Togarashi Collard Chips
Collard Chickpea Curry
This recipe is part of a series called Nutrition DL. Nutrition DL gives you the download on seasonal fruits, vegetables, or pantry staples. Once you learn about the basics of the featured ingredient, I share a four recipes over four weeks to inspire and feed you with this great seasonal food. Check out other foods I've covered here.
Tempeh and Collard Green Noodle Bowl
Ingredients
Noodle Bowl

1 bunch of collard greens, de-stemmed and cut into bite-sized strips
1-2 garlic cloves, diced
1-2 bunches of low-sodium soba noodles, cooked
1 package of tempeh (I used a five-grain variety), sliced into 1/2" logs
soy sauce
olive oil (for collard greens and tempeh)
salt, to taste
sesame seeds, for garnish

Miso Dressing

2 tbsp miso
2 tsp rice wine vinegar
3 tsp sesame oil
1 tsp shichimi togarashi
dash of water
dash of soy sauce
Instructions
In a large mixing bowl, add in your cooked soba noodles.
In a medium sauté pan, heat a few teaspoons of olive oil on medium heat. Once hot, add garlic and cook for a minute or so before adding collard greens. Cook collard greens down until slightly wilted, about 5-7 minutes. Season with salt, then transfer to the large bowl with the noodles.
Wipe down sauté pan, add some more oil and bring back to heat again, this time adding the tempeh logs with one side down in the pan. Lightly drizzle soy sauce over the tempeh and cook for 3-4 minutes on that side. Flip, drizzle a little more soy sauce over the tempeh and cook for an additional 3-4 minutes.
Remove the tempeh from heat and with a wooden spoon, break up the tempeh until in smaller, crumbly pieces. Add into the large bowl.
Combine the miso, rice wine vinegar, and sesame oil into a small bowl and mix until the miso is dissolved. Add a dash of water to thin out, if needed. Then add the togarashi and soy sauce.
Pour all of the dressing into the mixing bowl and toss everything together, getting the dressing on as much as possible.
Transfer portions to bowls and garnish with sesame seeds.
(c) 2013-2014 Small Eats