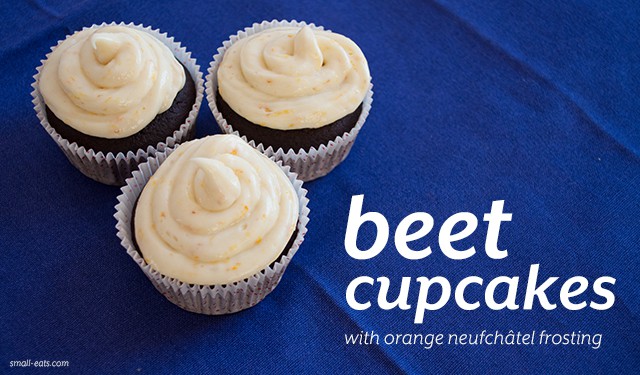 Surprise! Vegetables aren't just for dinner! The beet is a great root vegetable to use in sweet applications as well. I usually pair it with chocolate when I'm baking. The beet flavor mellows out and isn't too noticeable (if you would like to trick someone into trying beets 😉 ). You get the great benefits of beets and sometimes in sweet applications, its beautiful color.
Enjoy these slightly less guilty treats. What other treats have you put vegetables in?
Beet Cupcakes with Orange Neufchâtel Frosting
Ingredients
Beet Cupcakes

2 medium beets, greens and stems removed
3/4 cup unsweetened applesauce
About 1 cup brown sugar
1/2 cup honey
1 teaspoon vanilla extract
2 eggs, room temperature
1 1/2 cups almondmilk
2 cups all-purpose flour
2/3 cup unsweetened cocoa powder
1 teaspoon baking soda
1/2 teaspoon baking powder
Dash of salt

Neufchâtel Frosting

8 ounces Neufchâtel, room temperature
1 1/2 cup powdered sugar
1 teaspoon finely grated orange zest (I used blood orange zest)
Instructions
Preheat oven to 475. Wrap beets in foil and roast for an hour. If you have large beets (bigger than a baseball) up the time to 65- 75 minutes.
Once beets are done, allow to cool. Peel skins off and puree in blender or food processor.
Adjust oven to 375. Line a muffin tin with cupcake liners.
In a large bowl, beat the applesauce, brown sugar and honey until mixed. Then add vanilla and eggs and bet until combined. With a spoon, incorporate beet puree.
In another bowl, whisk the flour, cocoa powder, baking soda, baking powder and salt. Add half of the dry mixture to the wet mixture and stir to combine. Add 1 cup of milk and stir. Alternate the dry and milk until everything in mixed in.
Fill the lines at least 3/4 full with batter. Bake for 18 minutes, or until a toothpick inserted comes out clean. Let cool completely.
To make frosting, cream Neufchâtel until light. A 1/4 cup at a time, add the powdered sugar and mix until frosting forms. Add orange zest.
Frost cupcakes and enjoy.
Notes
(c) 2013-2014 Small Eats