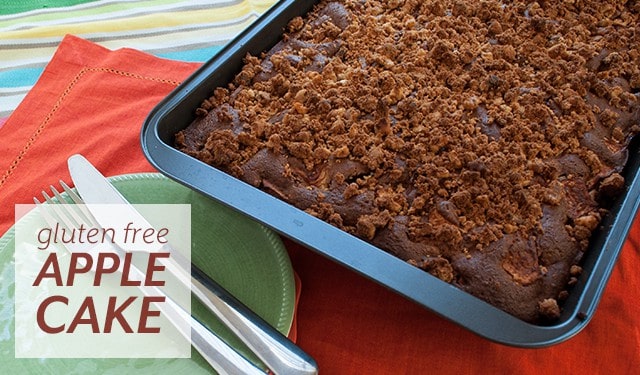 A friend asked me once why I choose to make certain recipes. One would think that I just get divine inspiration, I've always wanted to make these recipes, they're passed down from relative to relative.
The unsexy truth of it is: I went a little crazy at the farmer's market or my CSA gave me way too much and I have to make something before it all goes bad.
The latter happened this week. My CSA gave me more apples than I can eat and I wanted to do something fun with them. Luckily N and I were going over to our friend's house at the end of the week and I had been promising them a dessert, only for our dinners to be cancelled by life events. Our friends are getting healthy and are making healthy, veggie packed dinners (which we love), so I decided that the dessert I would bring would be healthier and lower on fat and sugar.
I came across this wonderful recipe from eat life whole, that checked all of the boxes I wanted. This cake is gluten free without needing any gums (which I love), has applesauce and coconut oil instead of butter or oil, and cuts down on the sugar. And the best thing of all: it tastes amazing! The apple cake is moist, delicious and never once felt "too healthy" or "too gluten free."
Ingredients
For the Cake

2-3 large apples, peeled, cored and chopped
1 tablespoon cinnamon
1 1/2 cup oat flour
3/4 cup almond flour
1/2 cup millet flour
1 tablespoon baking powder
1 teaspoon baking soda
1/2 teaspoon salt
1 cup applesauce
3 tablespoons coconut oil, melted
4 eggs
1 cup coconut sugar
2 teaspoons vanilla

For the Crumble (optional)

1/3 cup coconut flour
4 teaspoons coconut oil, melted
1 teaspoon maple syrup
2 teaspoons coconut sugar
1/3 cup chopped walnuts
Instructions
Preheat oven to 350 and move rack to the middle of the oven. Grease a baking dish with melted coconut oil.
Place the chopped apples into a bowl and add the cinnamon. Stir to combine. In a separate bowl, combine flours, baking soda, baking powder, and salt. In a large bowl, whisk applesauce, melted coconut oil, eggs, coconut sugar, and vanilla.
Slowly add the dry ingredients into the wet until fully incorporated.
Pour half of the batter into the dish, then add a layer of apple chunks. Pour the remaining batter on top of it and add the remaining apples. Place in the oven and bake for 1 hour.
If making the crumble, combine all crumble ingredients in a bowl. Spread on top of the cake and bake for additional 20 minutes or until a toothpick comes out clean. If you're not making the crumble, just bake for another 20 minutes.
Notes
(c) 2013-2014 Small Eats