It's hard to believe, but Thanksgiving is coming up! If you're still figuring out what you're going to make for your own dinner or what to bring to a Friendsgiving or potluck Thanksgiving, don't worry. I've got loads of ideas for you!
Let's be real, the magic of a Thanksgiving meal is in the food around the protein, which is so fun and can be very easy to make. These are also easy to make to fit everyone's dietary needs, too.
I've got a few dishes you can make for your Thanksgiving, Friendsgiving, or Thursday night (if you're not in the US). I've also listed dietary guidelines so you can easily see if it will fit for the people you're serving. The key is below the list if you want some clarification. Some you can easily adapt to fit into other dietary needs (like removing beans to make something paleo, primal, or Whole 30).
I hope these recipes inspire you and get the wheels turning for what to make at your gathering. As always make your recipes your own, add in your favorite flavors and swap out things you don't want to use.
Give yourself a bit of grace and love with this holiday. It's so easy to get caught up in making your meal/house/table perfect and get away from real core of the holiday. How clean your whole meal is or how many slices of pumpkin pie you had doesn't matter as much as the joy and connection you feel with yourself and others. Happiness is an essential part of your health, too.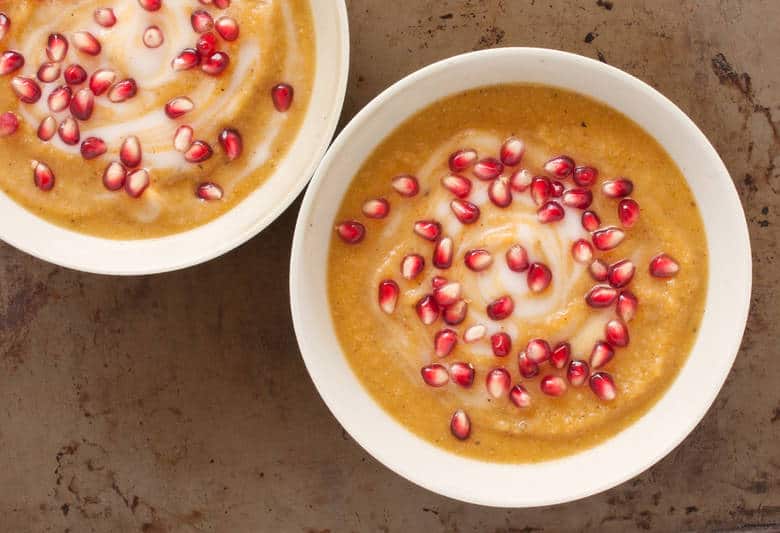 SOUP
Roasted Squash and Cauliflower Soup (V, VG, GF, DF, P, W30)
Hearty Chickpea Stew (V, VG, GF, DF)
Roasted Beet Carrot Soup (V, VG, GF, DF, P, W30)
Smoky Sweet Potato White Bean Soup (V, VG, GF, DF)
Roasted Carrot and Lentil Soup (V, VG, GF, DF)
Quick Roasted Cauliflower Soup (V, VG, GF, DF, P, W30)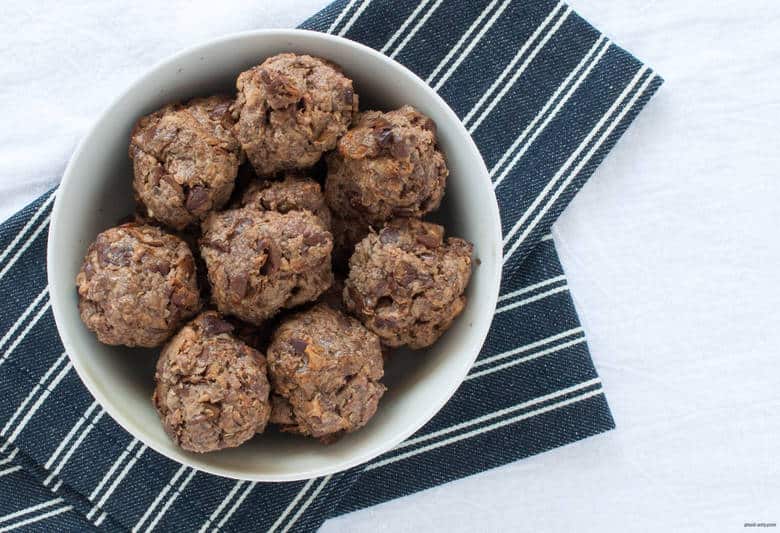 APPETIZERS
Paleo Eggplant Meatballs (GF, DF, P, W30, N)
Beef Radicchio Cups with Tahini Dressing (GF, DF, P, W30)
Huevocado Sweet Potato Toasts (V, GF, DF, P, W30)
Lentil Vegetarian Meatballs (V, VG, GF, DF)
Mini Crustless Swiss Chard Quiche (V, GF, DF, P, W30)
SALADS
Beet and Lentil Kale Salad (V, VG, GF, DF)
Shaved Fennel Brussels Sprout Salad (V, VG, GF, DF, P, W30, N)
Sweet Potato and Kale Quinoa Salad (V, VG, GF, DF, P, W30)
SIDES
Roasted Fall Vegetables with Yogurt Dressing (V, VG, GF, DF, P, W30)
Roasted Radishes with Tahini (V, VG, GF, DF, P, W30)
Spicy Roasted Eggplant (V, VG, GF, DF, P)
Stovetop Mac and Cheese (V, VG, GF, DF)
Stuffed Sweet Potatoes with Kale and Black Bean Cauliflower Rice (V, VG, GF, DF)
Roasted Mashed Cauliflower (V, VG, GF, DF, P, W30)
Roasted Brussels Sprouts & Sweet Potatoes with Walnuts & Pesto (V, VG, GF, DF, P, W30, N)
Butternut Squash Mac and Cheese Muffins with Spinach (V, GF)
Spicy Sauteed Collard Greens (V, VG, GF, DF, P, W30)
Swiss Chard and Tomato Cauliflower Rice (V, VG, GF, DF, P, W30)
Curried Roasted Cauliflower (V, VG, GF, DF, P, W30)
Swiss Chard Rice with Delicata Squash (V, VG, GF, DF)
Sweet & Smoky Mashed Kabocha (V, VG, GF, DF, P)
Mashed Chipotle Sweet Potatoes (V, GF, DF, P, W30)
Stuffed Delicata Squash with Greens, Grains, and Beans (V, VG, GF, DF)
Cauliflower Rice (V, VG, GF, DF, P, W30)
DESSERTS
Red Velvet Chia Parfaits (V, VG, GF, DF, P, W30)
Gluten Free Apple Cake (V, GF, DF, N)
Superfood Chocolate Chip Chickpea Bars (V, VG, GF, DF)
Tahini Rice Crispy Treats (V, VG, GF, DF)
DIETARY KEY
V: Vegetarian
VG: Vegan
GF: Gluten Free
DF: Dairy Free
P: Paleo
W30: Whole30
N: Contains Nuts