Gift giving can be complicated these days, and I'm not the biggest fan of just giving a gift card and calling it a day. Over the years, I've realized that no matter how well you know someone, the gift of food is always appreciated.
I enjoy nothing more than figuring out what foods people like and then crafting them a great gift with those foods or flavors in mind. Not only do I enjoy the challenge, but it just so clearly tells them (in the most delicious way possible) that I really appreciate them and thought about them.
This is where Maggie Battista and I have something in common. Maggie is the founder of Eat Boutique, an online shop and that curates the best small-batch and artisanal food and recipes to give to others of keep for yourself. I met Maggie at The Big Traveling Potluck last year and she told us she was coming about with a cookbook all about food gifts. The moment the premise came out of her lips, I was sold.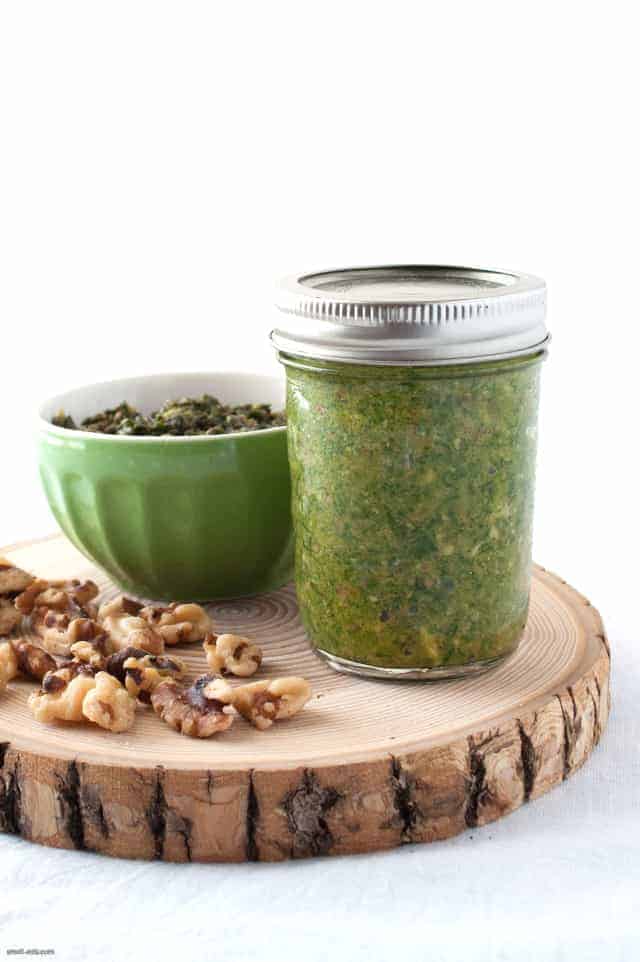 I've been baking, cooking, and creating food gifts for years. To have an entire cookbook brimming with potential ideas is so exciting! Now, that book that speaks to a big part of my life is out. Food Gift Love is Maggie's wonderful collection of recipes of all tastes and occasions to make and give as gifts. She didn't stop with just recipes though. Every recipe also comes with a suggested way to wrap and give this magical gift. She also has great sections on how to stock your food gift pantry (the food pantry and the gift wrapping pantry) and which recipes would be best for which occasion. She's thought of everything.
A food gift can be healthful too! Most of the time when I think about food gifts, I usually think of something in the sweet (and not always the most healthy) variety. That's not always the case. You can, which Maggie so brilliantly shows, give soup, sandwiches, dips, drinks, extracts, and jams.
Maggie's Chard and Walnut Pesto stood out to me as a prime example of a healthier food gift. Raw Swiss chard is high in vitamin A, K and C, all of which are or have antioxidant properties. Packed with almost a full bunch of chard (leaves and stems, which I love, since that maximizes the chard), toasted walnuts, and just right amount of parmesan cheese, this pesto is great for giving as a great gift for your friend or loved one to use as a spread, dip, or pasta sauce. If your friend or loved one is vegan or dairy-intolerant, you can easily leave out the cheese. I've made and featured many pestos that don't need the cheese to make it taste good.
If you're like me and love to show your love with food gifts, I highly recommend Food Gift Love as a resource for your kitchen. It will inspire you to make some amazing food that will put a smile on your friend's faces for sure.
Disclosure: I volunteered to help promote Food Gift Love. I received a copy of the cookbook to use, review, and help promote the book. All opinions are, as always, my own.
In this recipe, I blend Swiss chard and walnuts into a chunky pesto that looks like it came from a mortar and pestle, the traditional implements for pesto-making. You may be familiar with the smooth-style pesto sold in markets, but try thicker pesto. The texture adds wondrous substance to everyday pasta and looks like a truly homemade food gift.
Ingredients
½ cup shelled walnuts, unsalted and chopped
3 cups Swiss chard leaves and stems, tightly packed, cleaned
1 ½ teaspoons finely chopped garlic (from about 3 cloves)
¼ cup plus 1 tablespoon grated Parmesan cheese
1 tablespoon fresh lemon juice
1/8 teaspoon fine sea salt
1/8 teaspoon freshly ground black pepper
¾ cup extra-virgin olive oil, plus extra for storage
Instructions
Preheat the oven to 350°F. Spread the walnuts on a baking sheet and roast 10 minutes. Set aside to let cool.
Chop the chard into 1-inch ribbons and stem pieces.
In the bowl of a food processor, add the walnuts, chard, garlic, Parmesan cheese, lemon juice, sea salt, black pepper, and olive oil. Pulse in 5-second intervals (about 4 times) until the pesto is blended but still chunky.
Store the pesto in an airtight container in the fridge for up to 3 days. Before sealing the container, add an extra tablespoon or two of the olive oil on top of the pesto to create a thin layer that helps preserve the color.
Gift Wrap:
Glass jar with airtight lid
Marker
Write the label directly on the lid of a glass jar. Fill the jar with pesto. Wipe the rim and seal. Refrigerate until ready to gift.
Notes
Text excerpted from FOOD GIFT LOVE, © 2015 by MAGGIE BATTISTA. Reproduced by permission of Houghton Mifflin Harcourt. All rights reserved.
(c) 2013-2014 Small Eats