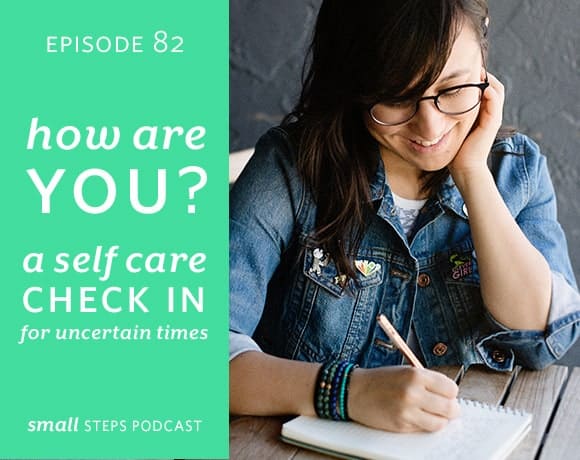 As we continue to move through and live in uncertain times, it can be helpful to check in with ourselves to see how we're doing and taking care of ourselves. This episode invites you to take some time to check in with you and create small steps that can be supportive for you during this time.
You can also listen in your favorite app: iTunes | Google Play | Spotify | Stitcher
Small Steps in the Show:
Set aside some time to think or journal on some or all of these questions
Choose one or two small step answers from your questions and try then throughout the week or weeks
Adjust them as needed as you try them out
Consider doing this check in again in a few weeks
Consider getting support from others
Have so much kindness and compassion for yourself as you check in and make adjustments and move throughout this time
Mentioned in the Show:
Buy my Enamel Pin
Small Steps #25 How are You? A Self Care Check In
Small Steps #31 How Do You Feel? A Rest Check In
Small Steps #45 What Do You Need? A Busy Check In
National Suicide Prevention Hotline, US
Crisis Services Canada
Open Path Collective (lower cost therapy and teletherapy)
Inclusive Therapists (lower cost therapy and teletherapy)
BetterHelp (teletherapy)
Talkspace (teletherapy)
Small Steps #79 Taking Care of Yourself in Uncertain Times
Small Steps #80 Tips and Tricks for Working from Home
Small Steps #81 Ways to Lower Stress and Anxiety
Follow Aimee on Instagram | Facebook | Pinterest
Sign up for the Wellness Wednesdays Newsletter
Interested in working with Aimee? Find out information here.