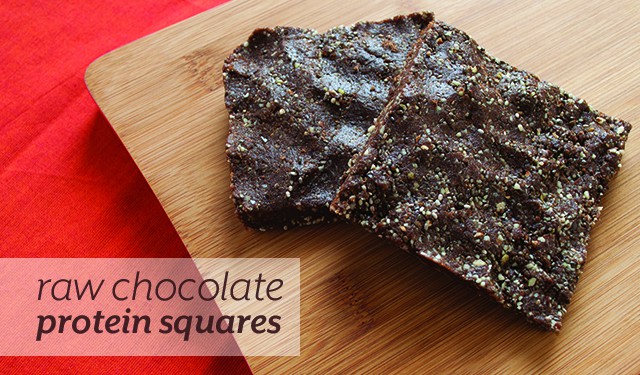 Two weeks ago, the unimaginable happened. I killed my food processor. It wasn't the best, it was four years old and what I could afford at the time (which was nothing to write home about). Since then, it's made countless jars of almond butter, sauces, dips, patty mixtures, and protein squares.
Things always die when you have something really important happening. I was making these protein squares for someone very important. I was going to deliver them the next day and they would be so impressed by me and my food.
But that didn't happen. After spending a pretty penny on supplies (dates and raw pumpkin seeds aren't cheap), I made two batches and had them chilling in my fridge. I thought I was ahead of the game. Then, as I went to make the last batch, the food processor died.
That's okay, I thought, at least I have the other two batches. Right? Wrong! I hadn't adapted the original recipe like I had in the past to adjust for the ingredients I was omitting. I had way too many ingredients and not enough binder. It crumbled apart in my hands. And it was 9pm. On a Sunday. Every store that sold a food processor or dates was closed. I felt so defeated.
N came home and, like the amazing man he is, reassured me that since the important person had no idea I was giving these protein bars to them, that I could try something else that didn't use the food processor. Tomorrow.
I ended up delivering something entirely different (which still went over well) and ordered another food processor (a much better one!). When my beautiful new food processor arrived, my friends asked what I was going christen the processor with. The recipe that got the best of me, of course.
Raw Chocolate Protein Squares
Ingredients
1/2 cup of raw pumpkin seeds
2 tbsp shelled hemp seeds
1/2 cup cup of raw almonds
2 tbsp of chia seeds
2 cups (about a pound) pitted medjool dates
1/4 cup raw cacao powder
1/2 tsp. of salt
Instructions
Place all seeds, salt, and cacao powder into food processor and run.
Once the mixture is powder-like, feed in the pitted dates and let run until mixture is doughy.
Put mixture into 8x8 inch pan (or smaller, if you want thicker squares) and flatten into the bottom. You may need to wet your hands before doing this.
Place pan into fridge and let chill and firm up 1-2 before cutting. Keep in pan or wrap in saran wrap to take them on the go. Store the wrapped squares in the fridge.
Notes
(c) 2013-2014 Small Eats