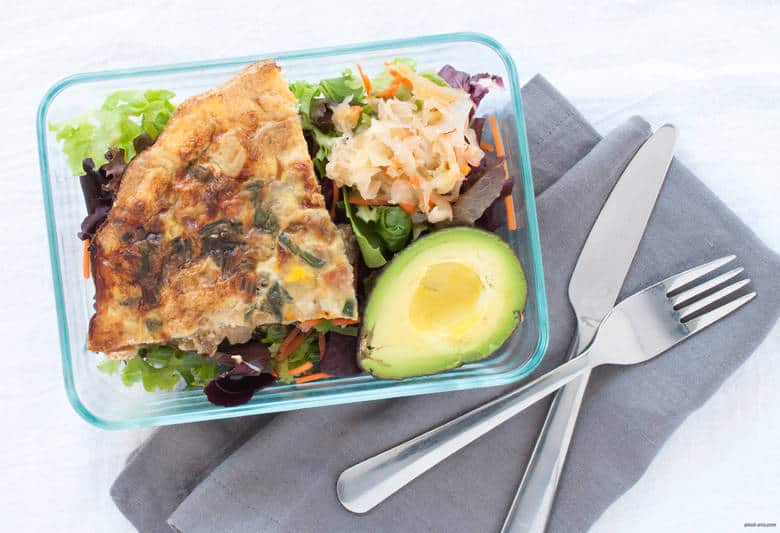 Lunch can be a pretty unpredictable meal. Most of us (including myself) aren't at home, in an office, away from a kitchen, and almost always: busy.
That busyness often doesn't leave much time for eating, eating well, or eating in a relaxed state. I've talked about the disadvantages of eating on the go and that can apply to eating lunch, at home or at work.

Why should you be eating in a relaxed state?
Your body is always is one of two states: sympathetic or parasympathetic. You're in a sympathetic state when you're active, standing, driving, stressed out… most of us are more in the sympathetic state the majority of the time. When you're relaxed, calm, and sleeping, you're in the parasympathetic state. This is the best state to be in when you're eating. The parasympathetic state is usually referred to as the "rest and digest" state.
When you're in the parasympathetic state, your body is able to trigger salivary production that will help breakdown your food, as well as properly digest your food and get all the amazing nutrients you're eating into your body so you can use them. No matter how clean you're eating, if you're not resting while digesting, you won't get those nutrients your body needs.
I've worked in very stressful work environments and through stressful times. I completely understand how difficult and foreign it sounds to be running 100 miles an hour with the weight of the world on your shoulders, maybe people breathing down your neck and imagine also fitting in a restful lunch break, away from your desk. Or maybe even a lunch break at all.
And what I remind myself all the time, what keeps me going and started this whole thing in the first place is: I come first. Not in a bratty, entitled way, but in an honest way. If I can't take care of myself, nourish my body and have that food actually be used and stay healthy, I'm no good to anyone, especially myself.
That voice was very small when I started to put myself first, so in making space to have a relaxing lunch break, over the course of the next few weeks, I'm going to give you one step, one action you can take to, rather than have #notsaddesklunch, to have a #notatmydesklunch that will give you a much needed break and nourish yourself.
So this week, step one is to get away from your desk.
You've worked hard, take a break and get away from your desk. Give yourself a rest. All of your work will still be there after lunch, and it will probably be much easier after you've had some time away from it. To appeal to the logical side of your brain, legally you must take a lunch break, so why give that precious time away?
Think about where you can take a lunch break. Even if you have an office with a door you can close, getting out of that office and away from stress/the phone/another email/someone popping by for a "quick" question will keep you in a sympathetic state.
Do you have a lunch room, patio, or some quiet space you can easily go to? Will you be interrupted there or can you eat in peace? If that space doesn't exist in your office, you car can be an option, so long as you're not eating and driving at the same time (that's still being in a sympathetic state).
Is there a park nearby? Being in nature, no matter how small it is, is a great way to disconnect from your usual day and check back in. I found a small park within a few miles of where I worked, and after eating there, the rest of my day would go by a lot smoother. If you don't have a park nearby, think if there's a courtyard or outdoor space away from your office that you could eat at and just enjoy your food.
If you work from home, think about a part of your house, either outdoors or indoors, that is relaxing to you. If being in your house will distract you too much, think about where you can go that will put you in a peaceful frame of mind.
Once you've found that space, actually commit to going. Put reminders on your desk or phone to go and spend at least 20-30 minutes there. If you need additional accountability, tell a friend or partner you're going and ask them to ask you about it later that day.
Start small. If this concept is very new to you (and maybe a little bit scary), start with one day this week. If you're feeling better after one lunch away, try it again the next day. Or try two days the following week. Change starts with small, incremental steps.
Now that you're away from your desk, what should you eat? This Crustless Quiche with a Side Salad is a compact lunch for you to easily cook, pack, and enjoy no matter if you're in a kitchen, park bench, or car. This quiche is easy to make, and taking out the step of making and prebaking a crust cuts down on the prep time. And, you don't have to worry about grains, which, if you're gluten-free or not eating grains, is also one less thing to think about.
My recipe for the quiche has sausage in it from Fork in the Road, a sustainable meat company that makes great sausages that are ethically grown. If you're a vegetarian, feel free to take out the sausage and add in another vegetable instead. Regardless of if you eat meat or not, you can also play with this recipe and what vegetables you add to it. Quiche is a great kitchen sink dish where you can just add all different kinds of vegetables to it.
For the side salad, I've used an organic salad mix, thrown in some julienned carrots for crunch, and to get the most nutrients from my greens, paired it with an avocado. I packed and enjoyed a full avocado for this, I probably ate half of it with the salad and the other half on it's own. To add in some gut friendly probiotics, I topped this salad with some Farmhouse Culture kraut. If you're new to kraut, add in small portions at a time to your meals. I learned the hard way that eating too big of a portion from not having eaten kraut at all can be overwhelming to your intestines.
As next week approaches, think about where you want to eat your #notatmydesklunch. Check out a few places, maybe in your office or on google maps, and then go. Start small, and enjoy.
I would love to see what (and where if you really like it) you're eating at your #notatmydesklunch, so add that hashtag to your lunch photo and tag or mention me (@small_eats).
Check out the other recipes and tips in this series:
Beef Radicchio Cups with Tahini Dressing
Taco Salad
Summer Cauliflower Rice
Crustless Quiche with Salad #notatmydesklunch
Ingredients
Quiche

1 head fennel, sliced into bite-sized pieces
1 bunch beet greens, greens cut into strips, red stalk diced
3 sausages, cut into half moons (I used Fork in the Road Fuji Apple Chicken Sausage)
2-3 garlic cloves, minced
4 eggs
1 c almond milk
Salt and pepper to taste
2-3 tsp paprika
2-3 tsp extra virgin oil, butter, or animal fat (I used Epic Duck Fat)

Salad

Handful of organic salad greens per person
1 avocado per person
1 tbsp Farmhouse Culture Smoked Jalapeno Kraut per person
Small handful of julienned carrots
Instructions
Preheat oven to 375.
In a medium sauté pan, melt pork fat over medium heat. Add in garlic, beet green stalks, and fennel. Cook for 3-5 minutes, then add in sausage and beet greens and stir to combine. Cook until sausage is warmed through and beet greens are wilted, about 5-8 minutes. Add salt, pepper, and paprika. Taste and adjust seasonings as needed.
In a bowl, combine 4 eggs and almond milk and whisk to combine. Pour a layer of the mixture in the bottom of a pie dish. Spoon the cooked filling into the pie dish, then add in the rest of the egg mixture. Cook for 40-45 minutes, until top is golden brown.
In salad bowls, add in greens, carrots, kraut and slice the avocado.
When quiche is done, cut slices and enjoy with salad.
(c) 2013-2014 Small Eats