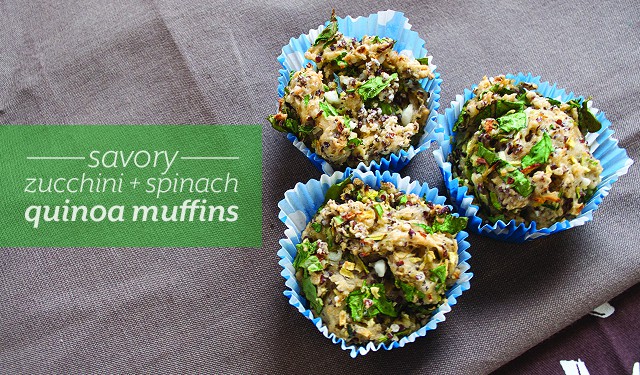 I won't classify myself as a breakfast person. I eat it; it's usually pretty straight forward: oatmeal with fruit, cereal with fruit and yogurt, almond butter toast… Nothing crazy, right?
A few weeks ago a friend brought a great breakfast spread to a weekly morning meeting. The meeting, which is just usually over coffee and tea, became that much more amazing! It never ceases to surprise me just how much food can enhance a moment in your life, even if it is just a meeting.
The others at the meeting and I decided that meeting over food was fun, and we've now decided to turn the routine meeting permanently into a breakfast meeting. I (very nerdily) created a spreadsheet, sent it around, and the breakfast meeting was official. Because everything's more real in a spreadsheet right?
This week was my turn. After my friend's sweet take on breakfast, I decided to go savory. One of the group mentioned that she loved quinoa, so I went for a filling (yet healthy) quinoa muffin. When we met, I also brought a peach and strawberry salad, just to throw more goodness in there. I reheated the muffins as well, which really makes them sing.
Savory Zucchini and Spinach Quinoa Muffins
Ingredients
4 cups cooked quinoa, cooled (1 cup uncooked)
2 large eggs
1/4 cup canola oil
1/4 cup almondmilk (or dairy milk)
2 cups all-purpose flour
1 1/2 tsp baking powder
1 tsp salt
1/2 tsp black pepper
1/4 tsp paprika
1/4 tsp cumin
1 cup fresh spinach, chopped
2 tsp fresh herbs, chopped (I used chives)
1 zucchini, grated
1/2 cup reduced-fat crumbled feta
Instructions
Preheat oven to 350 degrees F. Line muffin tin with liners.
In a large bowl, whisk together eggs, oil, and milk.
In another bowl, combine flour with baking powder, salt, pepper, paprika, and cumin. Stir in quinoa. Slowly pour dry mixture into the wet ingredients and stir until combined. Try not to overmix it. Add spinach, your fresh herbs, zucchini and feta. Stir until just combined.
Scoop into prepared muffin tins. I put in two scoops using my 3/4 oz ice cream scoop. Three would also work, if you want heartier muffins. Bake for 30 minutes or until an inserted toothpick comes out cleanly.
Store in the fridge. Best served warm.
Notes
(c) 2013-2014 Small Eats