I am a people pleaser. Always have been. I knew it, but it was just easier to stick to default, the comfort of what I had known. I was helping some people, right? Making them happy, right? That was something, right?

Not quite.
After years and years of people pleasing, of putting myself second, the wear and tear was too big to ignore anymore. Some of it was visible to others: I put on weight after putting college over myself. Some of it wasn't: the growing, deeper-seated fatigue from giving giving giving to others and never to myself. The bucket was empty, and no one was really refilling it.
When was school was done and the crushing weight of project after project from art college passed, I started to work on the part that was visible to others. That started me on the path to blogging, real food and nutrition.
The inside work started more slowly. It's been taking a little more time, more of the physical layers peeling and lots more life lived before it just kept smacking me in the face enough and pulling on me that I couldn't ignore it anymore. And it's tough. Lots of deprogramming, noticing, catching yourself, and trying to give the mic to that quieter voice inside you that's saying "Hey, what about me?"
And it's about saying No. The. Hardest. Word. for a people pleaser. No. No, I will not put your needs over mine. No, I will not shoulder this alone. No, I will not give this "my all" only to get "eh" in return. No, I will do what I need to do for me. No, I am number one here.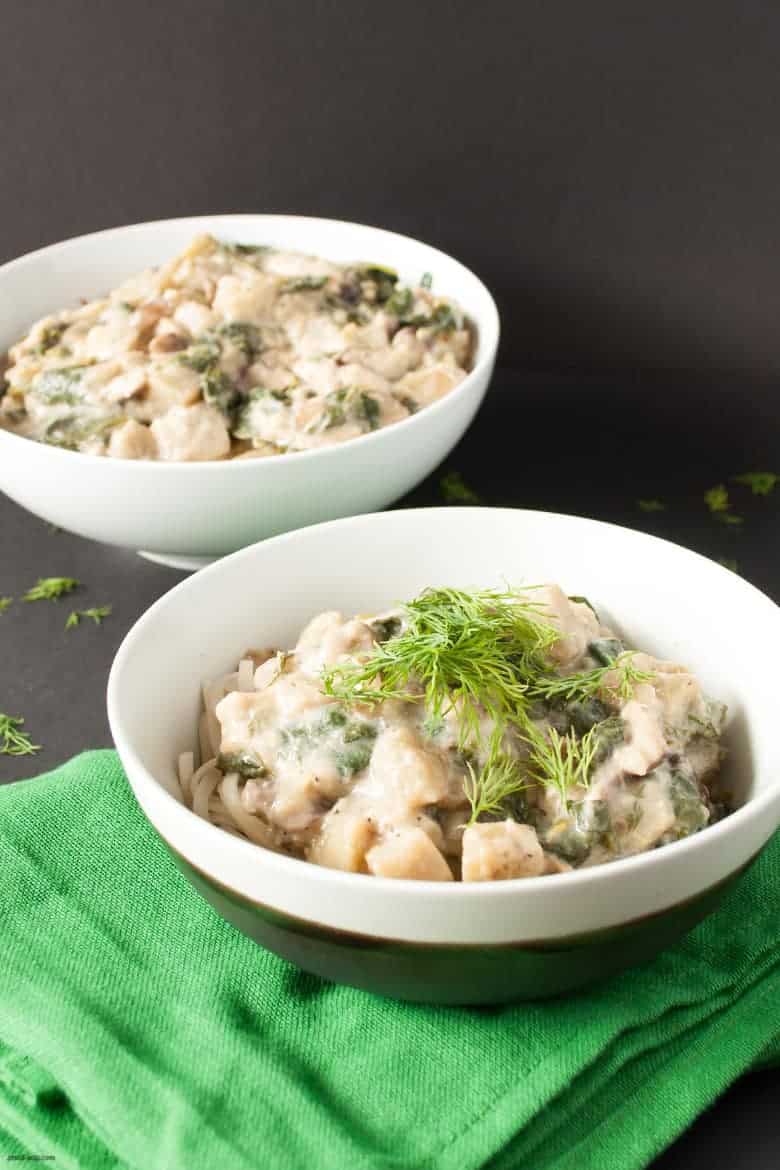 This week I had some good moments of No. No, I will not let comparison push me to "work harder" and not do something for myself. No, I will not put work over working on myself and having my gym time. No, I will not deny myself a fun opportunity because it messes with the structure of my day. No, I will put myself and my joy first.
And it feels good. Finally. Before it felt uncomfortable, foreign. Like someone was going to tell on me or shake their finger at me. No one ever has.
The more I say No, the more the quieter voice says Yes.
If you struggle with putting yourself first (and a lot of women do, men too), think about what can you say No to. What things around you aren't serving you anymore?
It can be small at first, it can be about food even. That's how I started. No, I will not eat this overly processed food. No, I will not get takeout tonight and I'll make my own dinner. No, I will not finish everything on my plate when I already feel full.
No opens you up to a whole new world of Yes, a Yes that's really going to fill you up and feel good. What makes me feel good right now is a lot of comforting, warming meals that feel like a cozy sweater I can finally wear this time of year. This Roasted Eggplant and Mushrooms with Spinach really hits that spot and is all kinds of Yes.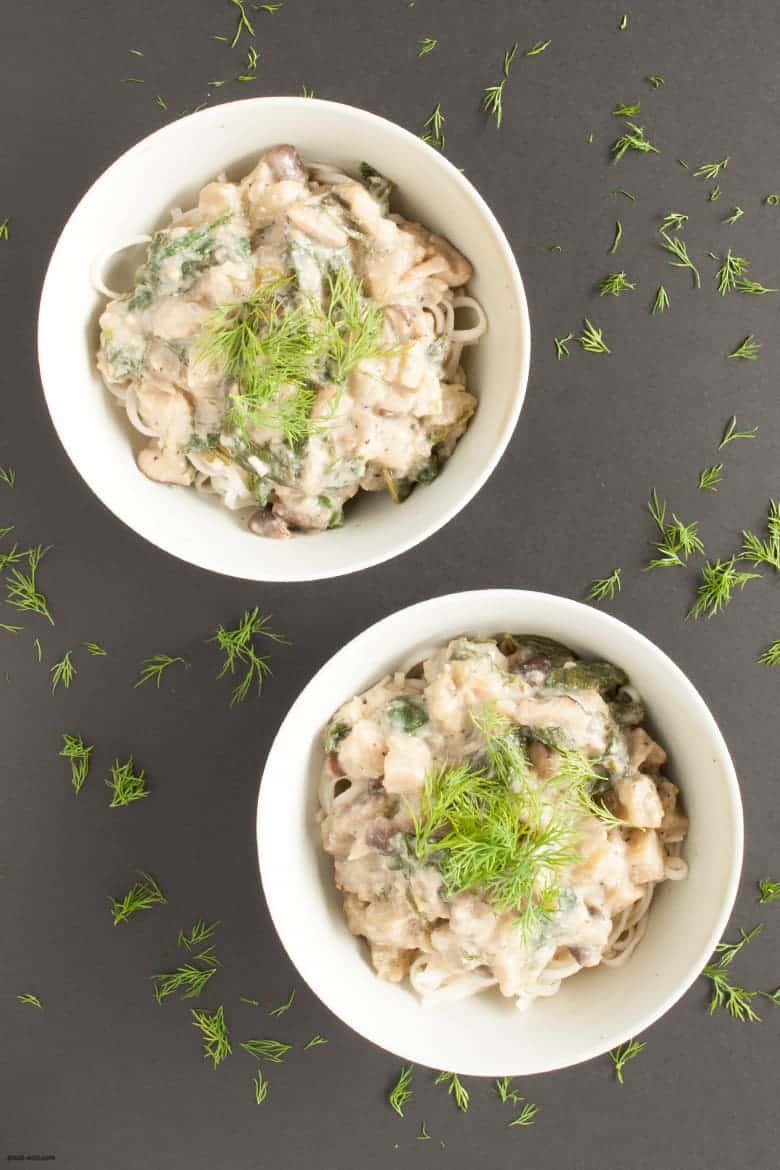 Roasted eggplant and mushrooms make it filling, and the creamy coconut/white wine/veggie stock sauce makes it perfect to enjoy in a bowl over some noodles (I used udon) or rice.
And I can't make a meal without some greens, so I stirred in some spinach too. This recipe uses something new for me, putting your sauté pan in the oven then taking it back out to finish the meal. Go with a cast iron pan or stainless steel pan with zero plastic so you don't loose a handle. Confirm your pan is oven safe, too. Too many surprises there.
Also, if you're new to the pan in the oven, then back on the stove thing, please handle the pan with mitts at all times after out of the oven. Out of habit, I grabbed my pan and now have a small handle-shaped burn healing on my palm.
I topped mine with dill and pumpkin seeds to add crunch (I totally spaced on adding the pumpkin seeds to the photo, but I'm telling you now and I added it to the recipe), you can swap it out with another seed or nut or omit it all together.
So what are you going to say No to? What's been holding you back from some peace, some happiness, some health?
Roasted Eggplant and Mushrooms with Spinach
Ingredients
1 container of mushrooms (of any variety), quartered
1 medium globe eggplant, peeled and cubed
1/4 cup of butter
2 garlic cloves, minced
salt and pepper, to taste
1 tsp cayenne pepper
1 can full fat coconut milk
1/4 cup low-sodium vegetable broth
1/4 cup white wine
2-3 handfuls of baby spinach
large handful of fresh dill, stemmed and chopped
pumpkin seeds, for garnish
Instructions
Preheat oven to 425.
In a cast iron skillet or stainless steel oven-safe sauté pan, melt butter over medium high heat. Add mushrooms and garlic and cook for 5 minutes, until more softened. Add in eggplant, salt, pepper and cayenne and stir to combine. Cook for 3-5 additional minutes, then move pan into oven.
Cook in oven for 15 minutes, then bring back to the stove. Add in coconut milk, wine, and broth. Bring to a boil, then add spinach in, turning until spinach is wilted. Taste and add additional salt, pepper, or cayenne to your taste.
Add in dill and stir in. Remove from heat and serve over rice or noodles. Garnish with pumpkin seeds for some added crunch.
Notes
(c) 2013-2014 Small Eats