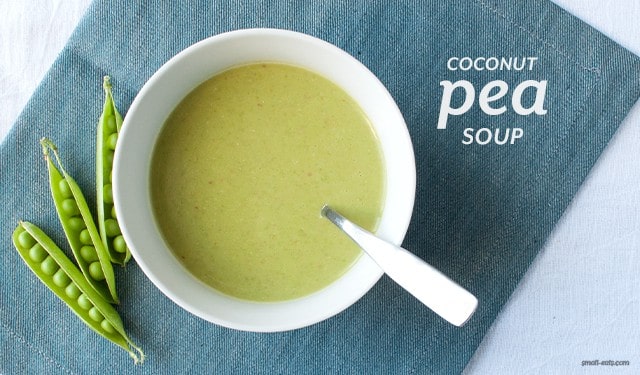 Soup "season" is finally simmering down. No longer am I making huge batches of soup, shoving my face over the pot to bask in its warmth and deep, wintery smells of root vegetables. No longer am I clutching the bowl with both hands and letting out deep sighs of relief from the cold.
The light is stretching into later hours of the evening, the sweaters and hoodies I clutched to in earlier months quietly sit tucked away in their drawers, and the brilliant hues of returning spring and summer fruits and vegetables happily greet me from their stalls at the farmers' market.
Even with the seasons changing and evolving into the times of outdoor parties and barbecues, soup season is still there, quietly poking it's head out at moments, reminding us that the temperature doesn't limit us to enjoying a great bowl of soup.
Peas are synonymous with soup. Though the classic pea soup just magnifies the bright and earthy springness of the pea, I decided to adapt one of my favorite soup recipes for this pea soup. When I first started cooking healthier a few years back, I stumbled across this Creamy Edamame Soup from Running with Tweezers. I had just discovered edamame at the time and was loving anything and everything edamame. This soup has become a comfortable favorite.
The simplicity of the recipe and how it perfectly captures how great the sweet creaminess of coconut milk can pair with heat. The pea works beautifully with the coconut and the heat of this soup, and the bright, happy green is a wonderful treat. As the seasons push forward into new temperatures and food, I'll definitely steal a moment or two for some soup.
Want more green pea dishes from this series? You can find them here:
Nutrition DL: Green Peas
This recipe is part of a series called Nutrition DL. Nutrition DL gives you the download on seasonal fruits, vegetables, or pantry staples. Once you learn about the basics of the featured ingredient, I share four recipes over four weeks to inspire and feed you with this great seasonal food. Check out other foods I've covered here.
Ingredients
2-3 garlic cloves, minced
2 cups fresh or frozen peas
2 cups vegetable stock
1-2 tsp red chili flakes (depending on heat preference)
1/2 can coconut milk, stirred
2 tsp olive oil
salt, to taste
Instructions
In a stock pot, heat olive oil to medium heat.
Add garlic and cook for 1-2 minutes. Add peas and pepper flakes, stirring to combine. Cook for 3-4 minutes.
Pour in stock and bring to a boil. Cook for 10-15 minutes.
Remove from heat and add in coconut milk. In a blender or with an immersion blender, puree the soup. Add salt to taste, then serve.
Notes
(c) 2013-2014 Small Eats